SELDIN PROMOTES CHARITY WATTS TO SENIOR VICE PRESIDENT OF HUMAN RESOURCES
Seldin, LLC is excited to announce that Charity Watts has been promoted to Senior Vice President of Human Resources. Charity began her career with Seldin nearly 10 years ago as a Regional Portfolio Manager. She was a great addition to the company, having 18 years of experience working for the Open Door Mission in various roles, most recently as a Program Director. She had focused on development and oversight of programs to break the cycle of homelessness and poverty.
Charity strongly believes in education and equipping employees with the tools and training to do their jobs well. It was only natural for her to excel in her next position of VP of Learning and Development. From there she was promoted to VP of Human Resources, and now her current role.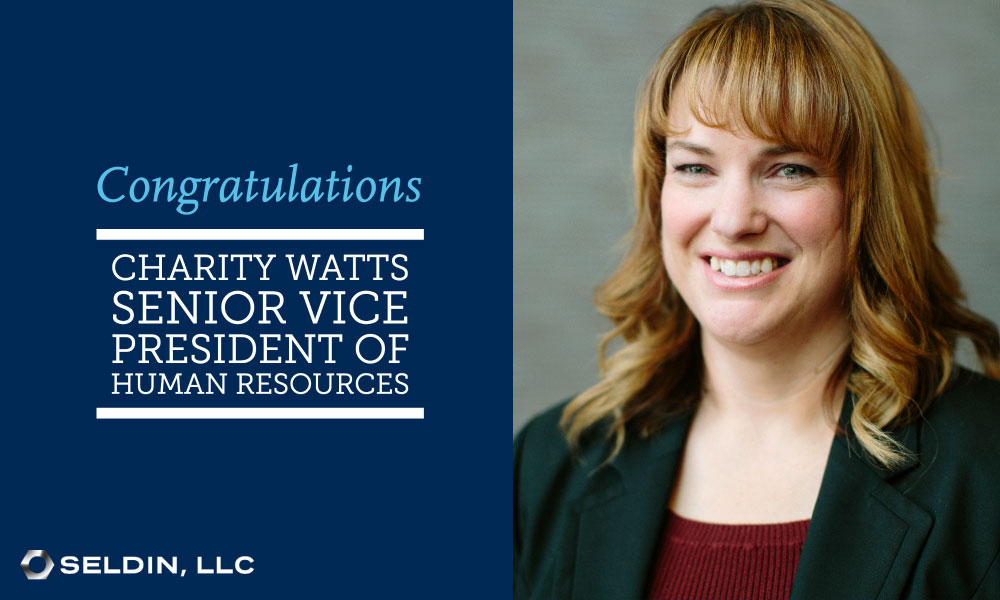 "Charity has demonstrated her commitment to Seldin and its employees in her various roles. She strives for excellence in all that she works on and produces exceptional work. She is always looking for opportunities to learn and grow as a leader for her team and all of our employees. She has been willing to take on new projects when needed, and has done so with a positive mindset. She is ethical and exhibits the highest level of integrity. We are fortunate to have her as a senior leader at Seldin," stated Chief Administrative Officer, Cindy Powers.
Charity earned her Bachelor of Science Degree in Human & Social Services Administration from Bellevue University. From there, she earned her Masters of Science Degree in Human Relations and Business from Amberton University. She is certified as a Professional in Human Resources (PHR), a Certified Apartment Portfolio Supervisor (CAPS), a Certified Occupancy Specialist (COS), and is also a licensed real estate broker in Nebraska, Iowa, Missouri, and Oklahoma.
"I am incredibly grateful to be part of the Seldin family and granted the opportunity to work for such a fantastic organization. I am thankful to have been able to work with remarkable leaders who invested in my personal and professional growth during my time with Seldin. I am so proud to lead a team of such phenomenal individuals and appreciate their never-ending focus on mission, culture, and the pursuit of excellence. I feel fortunate to have the most incredible colleagues. It is a privilege to work with individuals who are supportive, collaborative, inspiring, and just make work fun! I could not imagine a better place to work than Seldin," stated Charity.
Congrats to Charity!