Seldin Company is pleased to announce the promotion of Seth Perkins to Senior Vice President of Property Operations.
Seth has over 18 years of experience in Real Estate, Property Management & Asset Management services. He has worked as a Vice President of Property Operations at Seldin Company for the last 4 years and prior to that worked in a Regional Portfolio Supervisor role for Seldin Company.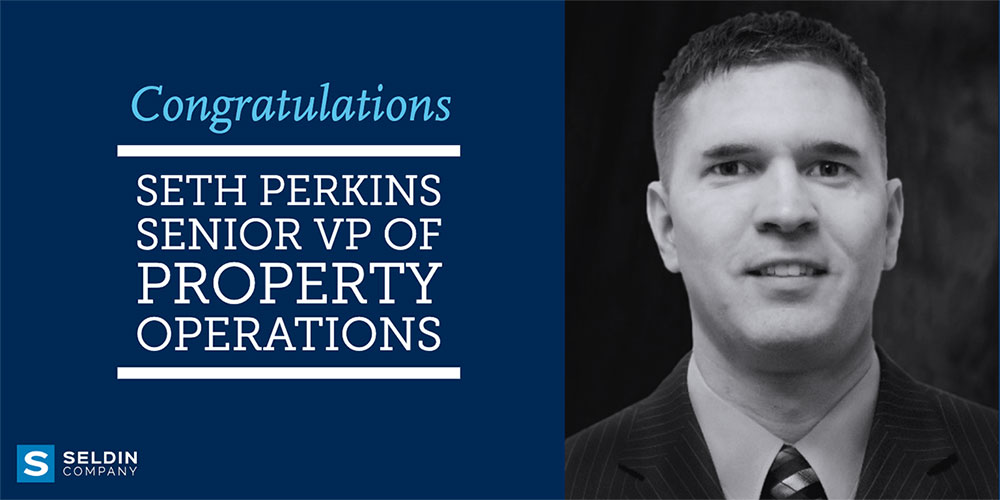 The promotion allows for an increased leadership role for Seth, who will continue to report to Executive Vice President of Property Operations, Michele Nathaniels.
"Seth's expertise in this industry, strong leadership qualities and dynamic relationships with owners, residents and employees has been an instrumental part of Seldin Company's ability to grow successfully and provide leading property management services", Nathaniels stated.
In addition to his current responsibilities, Perkins will serve as a mentor to other property management leaders and will assist with implementation and management of financial strategies that promote Seldin Company values to help contribute to the growth of the organization and ensure that Seldin Company always serves our residents, employees, property owners and stakeholders at the highest level.
Seth earned his Certified Apartment Portfolio Supervisor (CAPS) designation through the National Apartment Association in 2013 and served for several years on the Board of Directors of the Apartment Association of Greater Omaha and Lincoln. Perkins is a graduate of Peru State College with a Bachelor's Degree in Marketing and Management.
Headquartered in the heart of the Great Plains (Omaha, NE), the Seldin firm was founded in 1923 and engages in the management and expansion of multifamily apartment communities. With decades of expertise managing affordable and conventional communities, Seldin Company is proud to be an employer of choice and manager of properties that are the best places for residents to call home.