Remembering Ted Seldin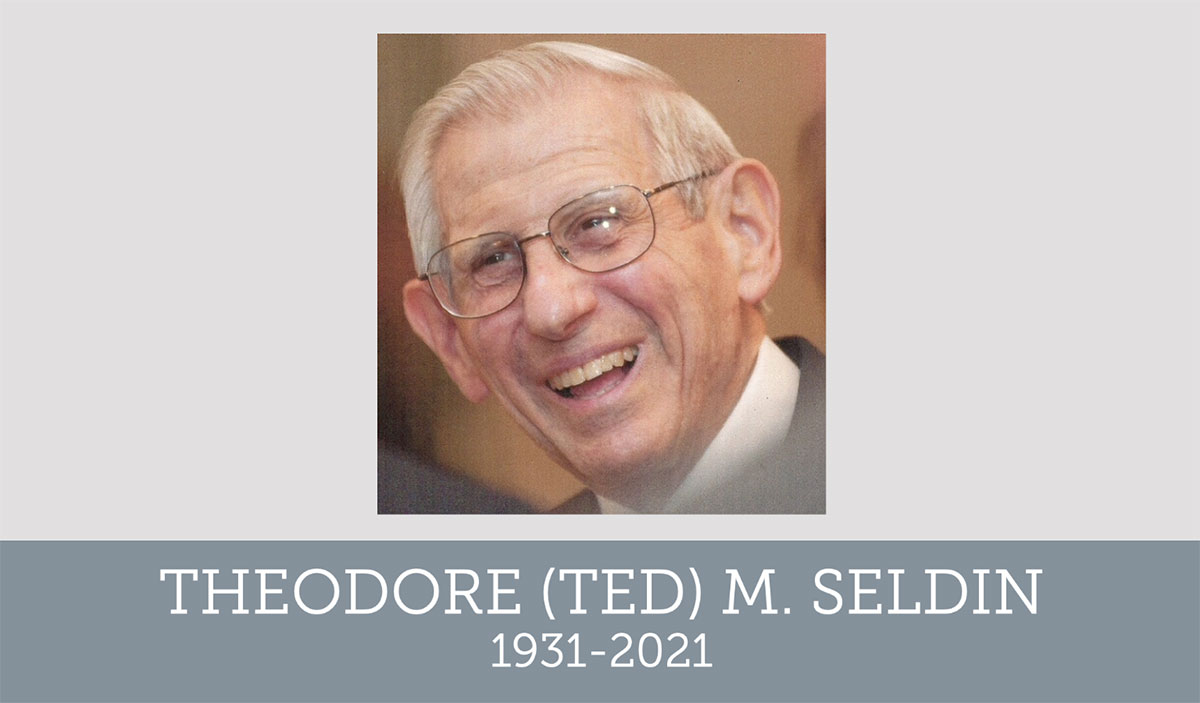 It is with heavy hearts we inform you that Ted Seldin passed away Saturday, January 9th.
Ted was active in many civic and housing related activities both in Omaha and at a National level throughout his career including an area he was particularly proud of, providing quality, affordable housing for seniors.
For those of us fortunate enough to have known and worked with him, he will be remembered for relentlessly promoting the 10-second look standard for property appearance and to demonstrate the pride for staff in providing quality management for residents and property owners, his advocation of MBWA (Management By Wandering Around) and reminding staff of their priorities – family first and then work.
Ted, rightfully so, credited the success of Seldin to all of its employees working together each day. He was an exemplary mentor and always made time to explain the "why".
He leaves behind a tremendous legacy and principles forever ingrained into Seldin Company's culture.
We offer our deepest condolences to his family.
Ted's Life & Legacy
Ted is survived by his wife of 64 years, Sarah; daughters and sons-in-law Stephanie (Rodger) Howard and Beth (Amnon) Dotan; grandchildren Liatte Dotan, Yonatan Dotan, Alexander Howard and Adam Howard as well as many cousins, nieces and nephews.
Ted was born and raised in Council Bluffs by his late parents, Bertha and Ben I. Seldin. He attended Abraham Lincoln High School there and went on to the University of Iowa where he was in a combined undergraduate and law programs earned a B.A. and a J.D. by 1955. Ted then received his Air Force Commission, but received a deferment from active duty because of the need for JAG officers. He was stationed at Ardmore, Oklahoma.
Sarah and Ted met as students at U. of Iowa. They married in 1956 and moved back to Council Bluffs after Ted received an honorable discharge from the Air Force at the rank of Lieutenant (he continued in reserve duty for another 14 years).
Upon his return to Council Bluffs, Ted joined the family's home building business, Seldin Company, started there by his father and older brother, Millard. His brother-in-law, Stanley Silverman, became a partner shortly after and Seldin Company expanded into Omaha where it created a master-planned community including residential and multi-family housing, as well as commercial properties throughout the greater Omaha and Council Bluffs areas.
Ted and Seldin Company saw in the 1980's there was a great need to assist low-income families and the elderly. He and his team worked with the U.S. Department of Housing and Urban Development to create programs aimed at building affordable housing for these underserved populations across the Midwest.
Ted was deeply committed to caring for and nurturing all areas of his community. He was instrumental in creating the non-profit Greater Omaha Housing and Community Development Corp. and is one of the founders of the Omaha Jewish Foundation. He and Sarah are long-time congregants of Temple Israel where he served in various positions on the Temple Board, eventually as its President.
Ted "gave back" to his alma mater in many ways and was subsequently honored with BOTH the University of Iowa Distinguished Alumni Achievement Award AND the University of Iowa College of Law Alumni Achievement Award. He also worked diligently with the University of Omaha Business School, which designated its new commissary in his honor.
Ted was named to the Omaha Chamber of Commerce Hall of Fame. The Omaha Jewish Community honored Ted, Sarah and their family as Humanitarians of the Year in 2015; and he, along with his brother-in-law the late Stanley Silverman, were named to the Omaha Jewish Business Leaders Hall of Fame. He was proud to be referred to as a "businessman with a conscience."
Most importantly, Ted was deeply devoted to family. He often said during their 64 years of marriage that he and Sarah "were a team." They revelled in all the moments— large and small— of being grandparents as well as a lifetime with many friends in Omaha and Rancho Mirage, CA. He was grateful for the many years of care and friendship by Carolyn and Ed Mercer, Elene Galloway, Dennis Mercer, Desiree Rangel, Margo Ramsey, and many others.