Timothy Goodman has called a lot of places home—Virginia, Washington, Minnesota, South Carolina, Japan, Italy and Spain, to name a few. But, he said he is a Nebraska Cornhusker at heart.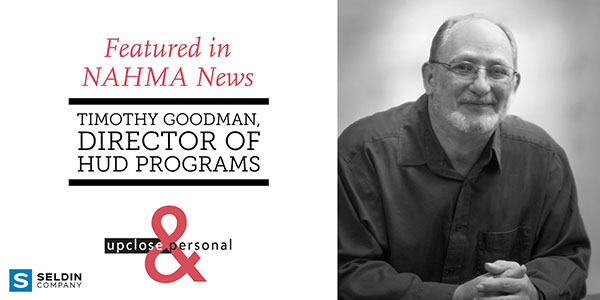 After high school, he applied to the Marines; however, due to previous injuries he was not accepted. Instead, he followed in his father's footsteps and joined the Navy.
"I was a Navy brat," Goodman said. "And I liked being on a ship when I was in the Navy. Of course, I was single then."
Since retiring from the service, he has settled down. Goodman has been married to his wife, Wendy, his wife, for 15 years and has two stepchildren, Melinda, 30 and Justin, 28, as well as three grandchildren, Addyson, 9, Olivia, 7, and Jaybrum, 3. Goodman now calls Iowa home even though he has worked for the Seldin Company, which is headquartered in Nebraska, for the last 22 years. He said the commute is manageable because he "lives on the border."
He has served as Seldin's director of HUD programs for 21 of those years, where the compliance department of 10 monitors all affordable housing programs including HUD vouchers and processing claims.
"We kind of make the rules for the company to follow," he said. "We do anything that needs to be done."
Goodman said he has always liked math and paperwork, so when he retired from the Navy, he looked for jobs involving numbers. He started out in accounting but soon found his way to compliance and has never looked back.
"I like it," he said. "I like helping people get affordable housing. I liked accounting, but compliance was something new to learn. And I still work in math—calculating income, posting vouchers."
Despite being in his position for so long, Goodman said he still attends training sessions to stay up to date on the regulations because there is always something new to learn. He is also passing the knowledge he gained onto others at Seldin.
"My goal is to pass along my knowledge of what I know. We want somebody that knows everything that I know because at one time, I was doing all of it," he said. "I had a heart attack 10 years ago, so it's important for some-one to know everything I do in case something happens to me."
Beside his work at Seldin, Goodman also serves as the president of AHMA IA/NE. One of his goals for the association is to increase its membership. He said there are about 50 individual members and he'd like to see that number grow.
"Right now, Seldin is the biggest supporter in terms of sending people to our conference," he said. "It was a day-and-half conference that drew about 100 people and 65 to 75 attendees were from Seldin."
He said the association is working on getting the AHMA's name out there and promoting its educational offerings.
For his part, Goodman has fed his love of learning by earning several designations. In addition to the SHCM, he also holds the Housing Credit Certified Professional, Certified Occupancy Specialist-Advanced, Certified Tax Credit Compliance Professional, Assisted Housing Manager, Housing Compliance Manager for HUD and Housing Compliance Manager for HOME Funds.