Seldin, LLC is pleased to announce that our CEO, Alicia Clark, has been named as a Multifamily Influencer of 2021 from GlobeSt.com. Alicia is a wealth of knowledge in the conventional and affordable multifamily industry and this recognition is well-deserved! Recipients of this award were chosen based on their demonstrated skill in navigating and leading their team in the multifamily sector and creating a lasting impact on the industry.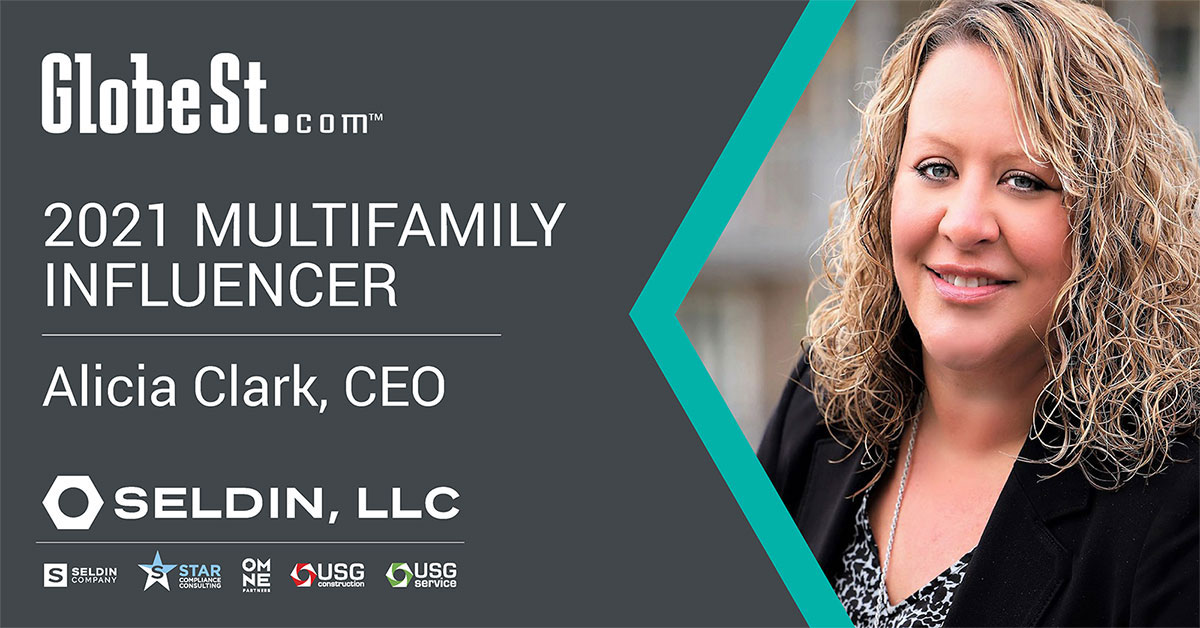 Throughout the past 17 years, Alicia Clark has put in the time and hard work at Seldin, LLC to climb the ranks to her current position as CEO, for which she oversees property management, commercial management, service, construction, compliance, and brokerage operations. Looked upon as a role model within the firm, Clark continually examines situations from different perspectives to ensure that all options have been reviewed and explored.
Seldin Company maintains a large selection of tax credit and HUD housing properties in its portfolio through her leadership. Alicia serves as a strong affordable housing advocate by dedicating much time to being a voice for those whose mission is to provide quality, affordable housing. Alicia also notably spearheaded Seldin Company's partnership with Metropolitan Community College and its Workforce Innovation Division. The partnership created a 90-hour certification program focused on key areas of multifamily service needs. While successfully leading the firm, raising five children, and remaining active in local charitable organizations, Alicia earned her doctorate in 2017.
"I am honored to be named, in great company, as a 2021 Multifamily Influencer. Our team members are truly dedicated to the experience of our residents and the preservation of our properties," stated Clark. "We're dealing with people in their homes; we truly care for our residents, and we're proud to provide great service to them and our owners."
To read more about the Multifamily Influencer Award and this year's recipients, visit:
https://www.globest.com/2021/10/15/multifamily-influencers-2/