ASHLEY TATUM PROMOTED TO VICE PRESIDENT OF MARKETING & BUSINESS DEVELOPMENT
Seldin company is thrilled to announce the promotion of Ashley Tatum to Vice President of Marketing & Business Development. In addition to Ashley's responsibilities as VP of Marketing, her role will be expanded to include generating new business relationships and developing new strategies to market and promote Seldin Company to potential third-party business. She will also assist with owner relations for enhanced customer satisfaction and communication.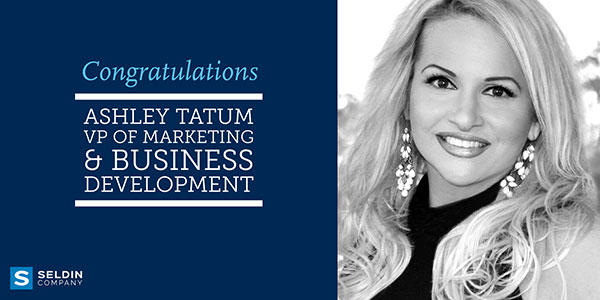 "I am thrilled to announce the expansion of Ashley's role with Seldin Company," stated Alicia Stoermer Clark, Seldin President & CEO. "I look forward to the opportunity to engage Ashley with our current and prospective clients. Ashley's broad expertise and dynamic knowledge will allow us to focus on strengthening asset performance, enhancing service orientation, and building strategic growth plans."
Ashley has over 17 years of multifamily industry experience, specializing in: new construction and property renovation lease-ups, branding and repositioning, digital marketing strategies, implementation of technology and software, as well as deployment of strategic advertising campaigns.
Ashley brings a well-rounded perspective to her new role. She has worked in many different aspects of the industry including leasing, regional and executive level support, property acquisitions, and marketing for conventional and affordable communities.
Congratulations go out to Ashley on her new position!