COLLEEN BRADSHAW PROMOTED TO ASSISTANT VICE PRESIDENT OF REGULATORY PROGRAMS
Seldin Company wishes to congratulate Colleen Bradshaw who has been promoted to Assistant Vice President of Regulatory Programs at Seldin Company.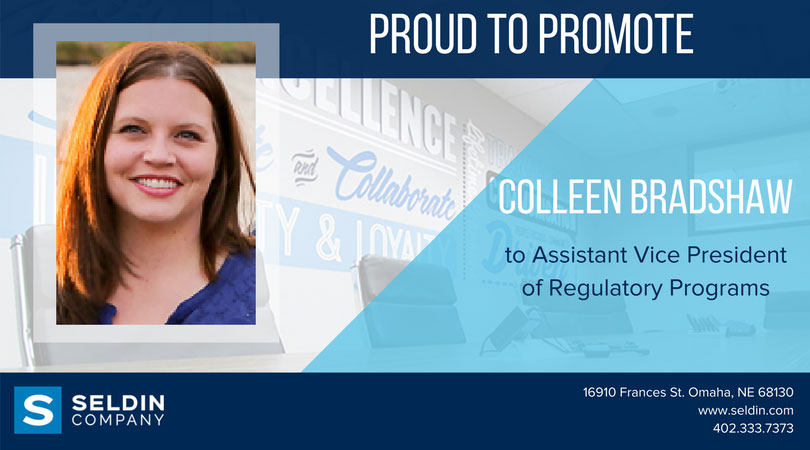 Colleen joined Seldin Company in 2008 as a part of the Compliance department. Throughout her career at Seldin Company, Colleen has held many responsibilities including HUD and Tax Credit file compliance, HOME reporting, end-of-year tax credit reporting, special claims, compliance and site training, Community Business Manager, contract renewals, and establishing properties in Seldin's software and troubleshooting issues.
"Our team is so excited to celebrate Colleen's promotion to AVP of Regulatory Programs," said Charity Watts Vice President of Regulatory Programs and Learning, "Colleen has worked this last year consistently on our core leadership values, was open to feedback, and has continued to seek opportunities to expand her abilities as a leader. Colleen's history at Seldin and the various positions within the company she has held over the years, combined with her wealth of knowledge in Compliance, has given her unique insight and amazing ideas as we look to the future. I am confident Colleen will do great things in her new role."
In her new role, Colleen will be primarily responsible for the oversight of performance and quality assurance for all regulatory programs and projects the compliance department oversees. She will collaborate in this effort with the Seldin Company Compliance Department, Property Staff, Government Agencies, and Internal/External Owners.
Colleen has earned several designations throughout the years including COS, AHM, FHS and HCCP.
A big congratulations to Colleen on the promotion!